home

Product

Industry

Containers

Rectangular range
Rectangular range
download brochure: industry

Download model catalogue

Models: CTR - Box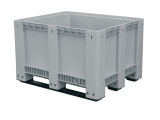 Manufactured in solid formats for use in general materials handling applications.
Made of high density polyethylene (HDPE). Virgin material - guaranteed and certified.
Resistant to infra-red and ultra-violet rays.
Resistant to extreme temperatures.
Can be stacked.
Easily recycled at the end of its working life.
Available in various configurations to ease manual or mechanical movement,
with options of four feet, two/three runners, lid closure and drain cocks.
Ideal applications include component handling, paper recycling, battery
collection and food handling.

optional lid
outer dimensions

[mm]

1200 A

1000 B

760 C

inner dimensions

[mm]

1120 a

920 b

600 c

distance between feet

[mm]

880 d

680 e

372 f

feet height

[mm]

115 g

90 h

volume
[L]

610

height
[mm]

760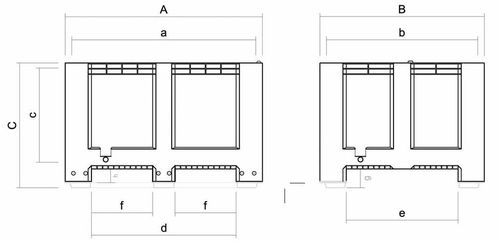 Rectangular range